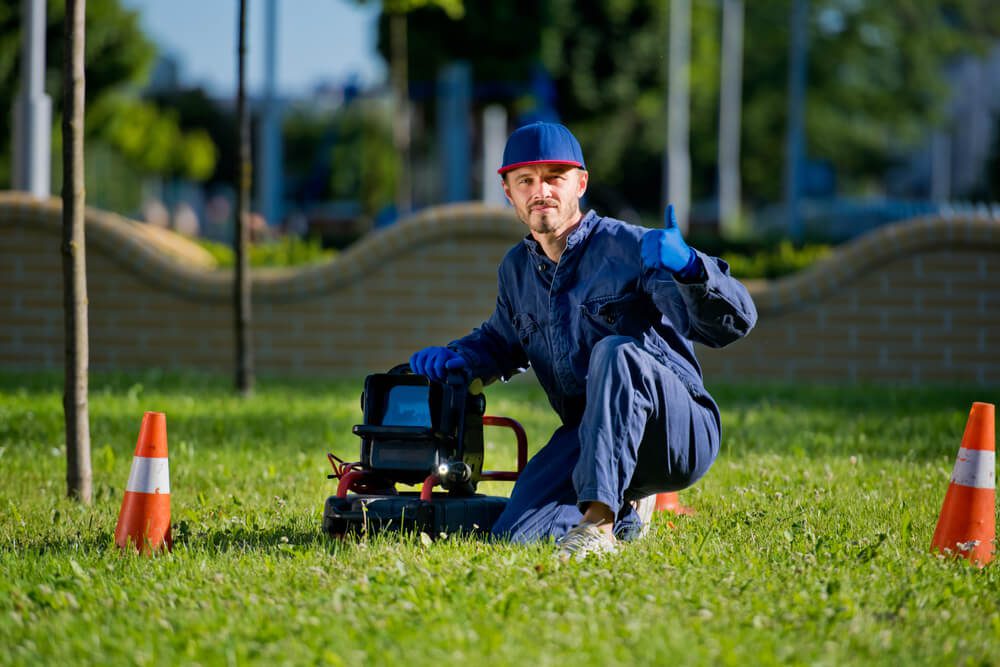 Commercial Sewer Line Inspection In Maryland
You can count on one of Maryland's leading sewage line inspection professionals for your sewer line inspection. Are you ready to sell your home or business property? Chances are you'll want to ensure that all areas of your property are in exceptional shape. There is no better way for property owners to impress prospective buyers than to order a sewer line inspection. A sewer line inspection is the icing on the cake for a possible buyer. Is it one step closer to telling your buyers or client that the property is free from surprises?  As your inspection company were readily available to thoroughly check your home's sewage system and identify any potential issues.
Maryland Licensed, Certified COMMERCIAL Building INSPECTORS #33884
Your Video Camera Sewer Inspection Will Tell You Everything You Need To Know About Your Sewer Line
Unfortunately, most property owners think their sewer line will last forever. Nothing could be further from the truth. If your sewer main is clay, Orangeburg, or cast iron, chances are it will need replacing soon. In most cases, ABS and PVC pipes will last up to one hundred years. 
You could discover underground cast-iron pipe, clay pipe, or a fiber pipe called Orangeburg in older homes constructed before the early 1960s. Some newer homes might include PVC or ABS that could last up to one hundred years. However, sewer systems get worse as time passes. Therefore, any sewage pipe that is currently preferred will normally get used for replacement. For example, today's sewer pipes are typically PVC or ABS.  
Are Your Outdated Sewer Pipes In Need Of Replacement? 
Older sewer lines with materials like clay and cast iron can stay in the ground as long as they can still transport wastewater without leaking. So even though the Orangeburg sewer pipe looks in good condition, they are better suited for upgrading.   
Every Possible Buyer Will Want The Details On Your Main Line
Most savvy property buyers will understand the importance of a sewer line inspection. Even if a sewer line is in top-notch shape, they will still want the details on your sewer line. The last thing a possible new owner will want to run into is a broken sewer line. In some situations, they may even use an old sewer line as a negotiating tool if the main line is old, regardless of the condition. 
Licenses & Certifications
Equip Yourself With the Tools For A Smooth Transaction
We can carefully examine sewer lines thanks to our cutting-edge technology, so you can be sure we'll provide you with a thorough sewer line inspection and report upon request. By doing so, any home or business owner will be equipped with the necessary information to restore the sewer line to top shape. 
What Is A Sewer Line Camera Inspection?
We employ high-resolution cameras during the sewer line inspection. It provides a detailed view of your sewer main. When you call us for your home or property inspection and include a sewer line inspection as part of the process, we'll arrive when it's convenient for you and answer any questions you might have. Our video camera inspection procedure is entirely visual and requires no component disassembly (except for removing the cover on your clean-out).
What Is NOT Included In A Sewer Line Inspection?
Our licensed sewer line inspector will examine the line starting from a conventional clean-out access point.  Additionally will provide a detailed written report of the findings and any interpretations. However, it's crucial to emphasize that the following are NOT included in the sewer line inspection:
Estimating repair costs

Any construction, remodeling, or drain line repairs of any type

Removing plumbing components or fittings

Examining permits or other required documents
What Can We Expect From A Camera Sewer Line Inspection, And What Will It Reveal? 
Our sewer line camera inspection in Maryland is one of our most requested inspection services. A sewer main inspection allows us to thoroughly check for issues and detect any potential concerns, making it a very effective approach to sewer line inspections.
In order for our clients to see the issues that need to get resolved, our team employs a high-resolution waterproof camera and provides the client with a video of any pending issue. This method allows us to accurately spot a variety of problems, such as:
Fractured pipe 

Any obstacles of any type

Pipes that are not aligned

Built-up sludge and grease 

Damaged corroded pipes

Leaking joints

Bellied sewer line

Roots intrusions
The Benefits Of A Sewer Line Inspection
Our inspection never puts your mainline at risk because we only utilize cameras to examine your sewer pipes. This is a non-invasive method provides an effective, accurate sewer line inspection. Additionally, a video inspection enables us to determine whether the necessary repairs have been completed correctly. Set an appointment with us and arm yourself with the facts about your property. 
Why Choose Delmarva For Your Sewer Line Inspection?
The answer is obvious; we are the industry's most certified, licensed contractor. When you call, our customer care team will provide you with all the information you need to make an educated decision   
Certified Mold Inspector, Maryland 

Delaware Contractor, License #2016600660

FAA Certified Unmanned Aerial System Pilot) 10387655 - 20220831-00677

Maryland State Contractor License #79009

FAA Part 107 Certificate

Delaware State Residential Home Inspector #H4-0010181

Certified Private Pilot with Instrument Rating

IICRC Water Damage Restoration Technician,

InterNACHI Certified Professional Building Inspector (CPI), NACHI 61092825,

EPA LEAD SAFE FIRM NAT-F172/84-2

Maryland Certified Mold Inspector

PESTICIDE APPLICATOR DE 22-253

OCHA HAZWOPER #183328

Maryland State Residential Home Inspector #33884

Certified Supervisor For EPA AHERA (Asbestos Abatement)
The International Association of Certified Home Inspectors (InterNACHI), a global organization of qualified property inspectors, has certified all of our inspectors.